Dates: Thurs 23rd – Fri 24th July 2015
Price: $15
Live jazz and live comedy, with a dollop of jazz comedy fusion. Frim Fram Sauce (the title of a funny lil' song by Nat King Cole) is born out of one serendipitous moment, that saw comedian Luke Joseph Ryan converge with critically acclaimed jazz group the Francesca Prihasti trio, to birth a surreal parody of a beat poem. Shit hot jazz, good comedy, and plenty of accidental magic.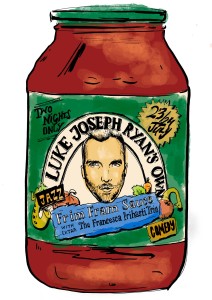 Stay in the loop
Subscribe for updates from Bondi Festival!
Bondi Festival acknowledges the Bidjigal, Birrabirragal and Gadigal people, who traditionally occupied the Sydney Coast, and we pay respect to all Aboriginal and Torres Strait Islander Elders both past and present.