Price: $150
Book now.
Join director Anthea Williams (Belvoir Associate Director – Literary) for a one-day masterclass on directing new works.
Directing a new play is a particular adventure. From development through rehearsals, previews, and opening, you're charting waters previously unknown. But you're not alone. Working with writers is one of our favourite parts of the theatre and a good collaboration will excite and challenge the work of everyone involved.
Over this workshop we'll discuss working with writers, actors and other theatre makers. We'll look at each step in the production process from initial ideas to opening. We'll do some practical exercises and work on scenes from both first and final drafts to explore scene work, characterisation, dramaturgy and directing.
Capacity is strictly limited. Book now.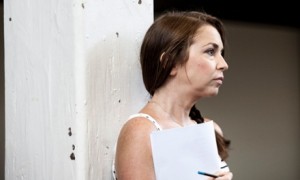 Photo by Brett Boardman.
Stay in the loop
Subscribe for updates from Bondi Festival!
Bondi Festival acknowledges the Bidjigal, Birrabirragal and Gadigal people, who traditionally occupied the Sydney Coast, and we pay respect to all Aboriginal and Torres Strait Islander Elders both past and present.